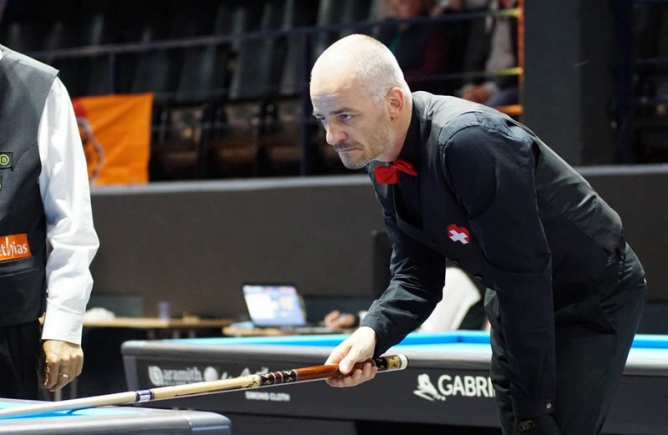 ANDERNOS – The European billiards federation CEB has launched a new Challenge in the 47/2 balkline discipline. Featuring top European players such as Switzerland's Xavier Gretillat (European champion in this discipline), Dutchman Raymund Swertz, Czech Marek Faus, Spaniard Esteve Mata and Belgian Patrick Niessen, the Classic Race Challenge will be played from 26 to 28 March in Kozoom's new studios in Andernos.
The event will be held without spectators to offer the best possible conditions in these COVID era. The CEB committee, with sports director Stefano Malacrita, welcomes the initiative: "'We are delighted to present you this new, revolutionary tournament." The 'Classic Race Challenge' is a first test based on a new system that the CEB is launching and intends to promote. The main goal is to offer new motivation and ambition to fans of the series game, both for the players and spectators. "New records can be achieved and the brand new format of play promises to be more attractive. It gives us the chance to breathe new life into the classic disciplines."
The Classic Race matches are organised by the CEB and Kozoom according to the rules and the information described:
The aim of the game is to score the highest number of points in one hour of playing time. The player who scores the highest number of points is the winner of the match. At the start, the player who plays the match takes the break and scores until he has missed. Thereafter, the referee shall place the balls on the spots again. The referee shall count the points without interruption, without starting again at each inning. He will also record the highest runs.
The best balkline players are invited based on their result at the last European balkline 47/2 Championship (Brandenburg 2019). Eight players have been invited: the 5 highest at the EC and 3 Kozoom wildcards. The 8 players will be positioned in a double KO table.
The players are (invited, but not confirmed so far):
1 Xavier Gretillat (Switzerland, European champion 47/2)
2 Willy Gerimont (France)
3 Raymund Swertz (Netherlands)
4 Esteve Mata (Spain)
5 Marek Faus (Czech Republic)
Kozoom wildcards:
6 Nicolas Gerassimopoulos (Greece

7 Sam van Etten (The Netherlands)

8 Patrick Niessen (Belgium)
Substitutes: Pascal Dessaint (France), Arnim Kahofer (Austria), Raul Cuenca (Spain), Benoît Deziles Legros (France).