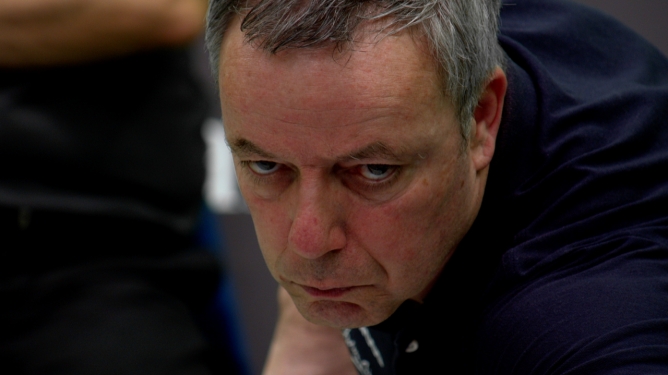 ANDERNOS – The laugh on Dick Jasper's face was a foreshadow of the final victory that was not far away. The Dutchman was the riant leader towards the end of the second day in Group A of the Kozoom 3C Challenge Cup and had one of his rare moments of losing focus so close to the end. It was a hilarious situation in the match: Dick Jaspers, playing with the orange ball from day one, went to the table, laid on and hit the wrong ball, the white one! "Honestly, I couldn't hide a good laugh", Jaspers confessed after the day, which he ended with an 11-3-2 lead.
Torbjörn Blomdahl, the excellent and professional commentator in the tournament, had already remarked a few times during the match: "I can't imagine that Jaspers plays will play the wrong ball, because orange is the color of the Dutch people."
The leading player with a big margin could afford the mistake. More than on the first day, Jaspers was a way too strong, more decisive and more effective than his two opponents, Belgian Peter Ceulemans, who only managed to win one set on the second day, and Portuguese Rui Costa, who could not score.
The outcome of the second day, with seven out of eight set wins for Jaspers, is that he can freewheel to the final victory tomorrow, on the last day. Because with the 11-3-2 score after sixteen sets, Jaspers now has an eight-set lead on Ceulemans and nine on Rui Costa. The Belgian number two in the ranking certainly does not have the illusion to come up with a miracle and win eight sets on the final day.
How could it come to this? Jaspers started the day with three set wins to 10 points, Ceulemans finished with 6, 4 and 5, Costa with 2, 6 and 1. The fourth session of the day, the twelfth set over two days, was for Ceulemans with 10 to 7 both for Jaspers and Costa. And in the next four sets on the second day, Jaspers was again the autocrat. The Dutchman made the maximum 40 points, Ceulemans scored 17 in those four games, Rui Costa 14.
The Dutchman was very enthusiastic after the format in the recent Duke Challenge. This Kozoom Cup is a special experience as well. "It is wonderful to be here. The ambiance is fantastic. This is a new format again, with three players at the table, colored balls, the grey cloth. I have a great admiration for Kozoom and its team to make this effort in hard times. This is a perfect event: we have been welcomed very well, we can practice, we can play in an excellent venue, everything is top-organized."
"I did not play well on the first day", admits Jaspers, who didn't feel top fit, even a bit tired. But after a good night's sleep, he had the energy to play a better match. "I made good points", he looked back. "Only the high runs did not come out well yet. But I could take a big margin on my two opponents, who I did not want to underestimate."
He reacted a bit surprised on the part in the match in which he took the wrong ball. "I really had to laugh about it later, but honestly, it is not that strange. I have been playing billiards for 45 years with the white or the yellow ball. And I know that I am absolutely never allowed to play with the red ball, in this case the orange ball. So what happens: I sit on my chair, looking at the position and go to the table to make my shot. And well, I did it with the wrong ball."
For tomorrow, Thursday from 17.00, the motivation to play on a high level is undiminished. ''I will perform as well as I can, even though I can't be caught."
Peter Ceulemans explained the lesser day with: ''I could not cope with the table conditions and the new format. I hope to play better tomorrow, because I want to keep my second place."
The ranking after two days in Group A:
1 Dick Jaspers 11-138-75-1,840-7
2 Peter Ceulemans 3-97-72-1,347-7
3 Rui Costa 2-75-70-1,071-8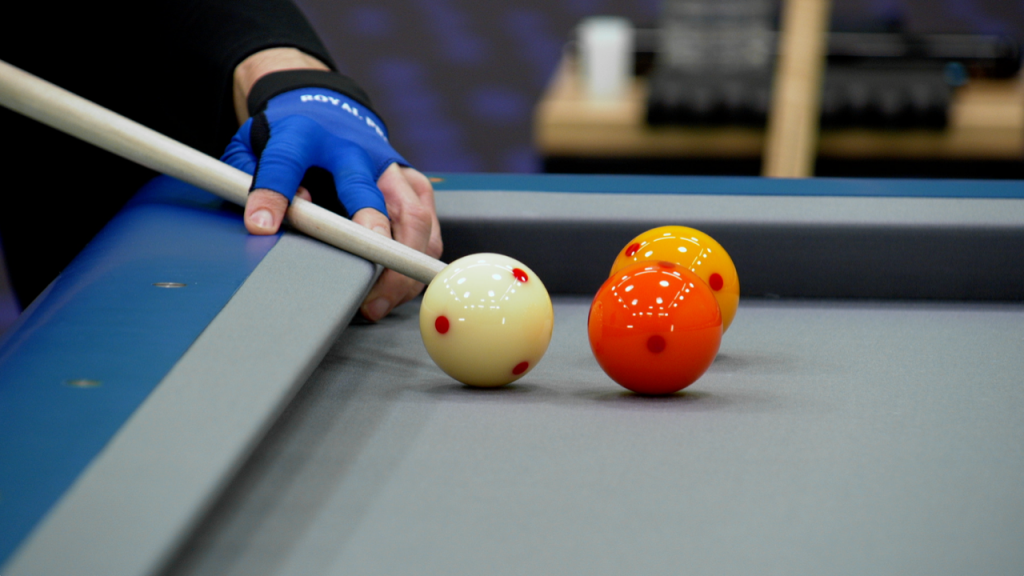 The Kozoom arena with Rui Costa at the table and Peter Ceulemans and Dick Jaspers in the back