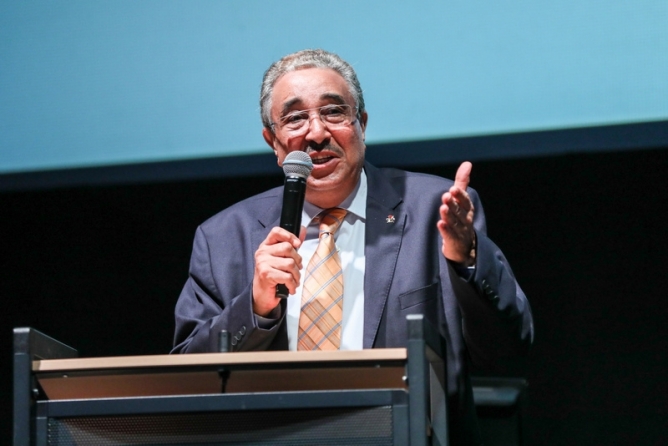 World Billiard Federation UMB has just announced two new events on the billiard competition schedule in July with a total prize budget of 300,000 USD (More than 6.5 billion VND). The organizers of the tournaments are Five & amp; Six – Korea, recently hosted a number of groundbreaking tournaments with top Korean greats and world female world champion Therese Klompenhouwer. The two UMB scheduled tournaments are likely to take place in Seoul and are scheduled from 1 to 25 July 2021. The format is not yet known, the number of players invited worldwide will be UMB. announced soon.
The top speculators in the world have been announced, but are waiting for more details. UMB President Farouk Barki received the final confirmation from Korea Wednesday Wednesday. "This is a tournament of international stature and many players are invited, spanning two events from 1 to 25 July," Barki announced.
Meanwhile, UMB has had to cancel two World Cups in the coming months: The first is the World Cup in Ho Chi Minh City from 24-30 May 2021. And currently, the World Cup in Porto definitely is from 5 to 5. July 11, the event is negotiated with organizer Alipio. UMB announced: "During a series of exchanges between UMB and FC Porto, discussions have been made regarding the Porto World Cup as scheduled."
"We had to decide whether to proceed or not, because the current situation cannot guarantee anything. Therefore, FC Porto, in a move of goodwill to the players, decided to cancel the Porto World Cup to give the opportunity to the guest international tournaments that were agreed by UMB. "
After consultation between UMB and DBU of the German Billiard Federation, it was agreed that the National Teams competing for the World Championship were postponed, scheduled to take place from 18-21 March in Viersen, will be canceled again due to unknown situation regarding COVID pandemic.
UMB will continue to monitor the COVID-19 situation. "We hope that as we progress through 2021, we will have many opportunities to return to the schedule that will bring back billiard tournaments and events back to players and fans around the world to enjoy."
Dick Jaspers, the number one player in the world of three-tape billiards, was delighted with two new UMB events. "As a player, we are very happy that we can look forward to tournaments again," he said. We are just waiting for details, but this is very good news. We must go there for sure, although we do have the right to choose freely. I'm sure the Five & amp; Six will take care of great and interesting events.
Tayfun Tasdemir also said: "We have had to wait so long, there are finally two international tournaments coming up for us. I am very excited. And I hope we don't have to go into quarantine because of the epidemic in Korea. Hopefully the situation will be improved ".
However, these events coincide with the Kozoom Cup finals, scheduled for July 15, 16, 17 and 18. Mr. Barki said: "I spoke to Xavier Carrer, organizers, see if the last days can be replaced one after another. "