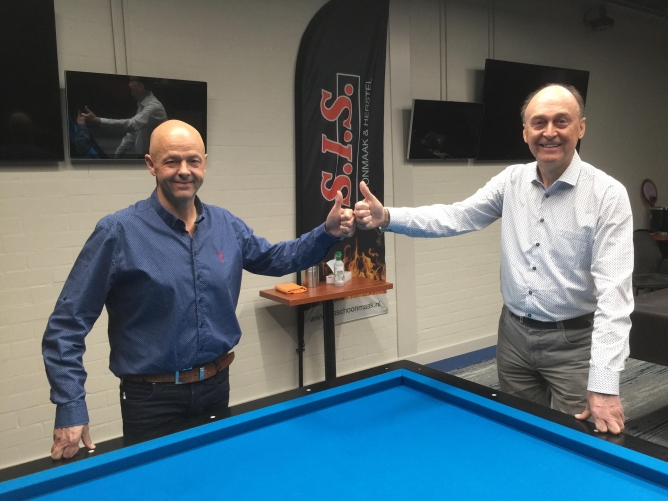 SINT WILLEBRORD – The Dutch billiard federation has attracted two experienced players and trainers for the education of young billiard talents. 66-year-old Christ van der Smissen returns to the function he had in the past with the KNBB. The Brabant, former champion was, among others, six times European champion in different disciplines. The other trainer is 56-year old 'Zeeuw' Jean Paul de Bruijn, six-time European champion and one time world champion in one cushion and since two years active with the PBA, the professional billiard organization in South Korea. Raimond Burgman and Barry van Beers quit as federal coach. The two trainers could not reach an agreement with the Section Three-Cushion.
The trainings will be held every two weeks in the SIS Billiards Experience Center in Uden, which has received the status of top sports centre from NOC/NSF. "We will start the practices until the summer, then we will evaluate with the boys and see how we continue", Van der Smissen clarifies.
Hans de Bruin from the Section Three Cushion: ,,Basically, a training program will be made until the end of this year. In between, we will see how it is working. We have made good arrangements with Van der Smissen and De Bruijn about the interaction. The training sessions are given at two tables and in most cases by the two trainers."
The youngsters who have signed up for the training sessions are, for now, Tom Slikker, Joey de Kok, Bradley Roeten and Joris van 't Zelfden. The group will probably be extended with some young talents, who have already been introduced last Saturday afternoon. What is certain for now, is that Sam van Etten will not participate in the training program. The Dutchman is following training sessions at his own initiative with Raimond Burgman and is teached by Frans van Kuijk. Raymund Swertz will follow the trainings in Uden according to a modified schedule, because he also plays in the national, classic top competition and the German league on Saturday. He also indicated that he would like to be coached by Christ van der Smissen during tournaments.
Hans de Bruin: "We had individual discussions with each player and have made clear that we expect them to cooperate in the trainings. In other words, we want to reach the very best with the young players. The idea is that we want to develop top players. That is not possible with four hours of practice per week."
The two trainers have had a final meeting with Paul Brekelmans and Hans de Bruin from the Section. The first training sessions, with four or six players, are Saturday 20th of March in the SIS billiard centre.
Christ van der Smissen used to be the national coach from 1998 to 2010. In the last period, he worked 32 hours a week at the national office of the KNBB, training players like Jean van Erp, Glenn Hofman, Barry van Beers, Dave Christiani, Jeffrey Jorissen, Therese Klompenhouwer and Martien van der Spoel. "With these guys, we often trained eight hours a day, four days a week, but in 2010 we didn't receive subsidy from NOC/NSF anymore and we had to stop. I then started to work at the federal office as an administrator."
Two years ago, Van der Smissen retired from the KNBB. ''I stopped working, but I had enough hobbies, like fishing, cycling and walking. In May last year, my wife Rina passed away, so I am on my own now. But I try to go out every day. I always liked to give trainings. Two months ago, the KNBB asked me if I wanted to start again with young players. We discussed it well and I am looking forward to start. We do it with the two of us, Jean Paul (de Bruijn) and me. The intention is that we give trainings in three cushion with all aspects of the game, such as technique, tactics, systems, attitude and so on. We planned to train on Saturday from 10.00 to 17.00."